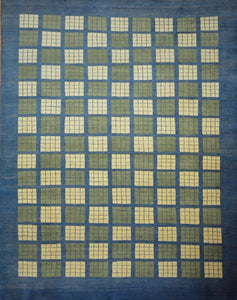 A traditional variety of the Persian, Gabbeh carpets were traditionally used as a sleeping rug. Primitive and rough, these medium-sized, hand-woven pile rugs are characterized by an abstract design featuring open colour fields and playful geometry. Usually made by women, Gabbeh carpets are thicker and more coarse than other Persian carpets. Gabbeh is a Persian word that means raw, natural or uncut. Although the patterns are simple with little detail, they are Iran's best-known nomadic carpets.
Rug Origin: Pakistan
Knotting Technique: Hand Knotted
Key Notes:
About:

Size: 7'10 x 9'10
Click here to get more information about shipping rates, schedules, methods and restrictions.
If you are not completely satisfied with an online purchase or gift, you may return your U.S.or Canadian purchase in store or by mail. Restrictions apply for returns made outside Canada.