Local Rug Services for Toronto and surrounding areas
what our customers are saying
I am absolutely thrilled with my new Afghan Moori rug. The size and colour are perfect. I never felt rushed or pressured and with your guidance I selected a rug that I love. Thank you again!

David Elieff, Toronto, Canada
We really liked the selection and we really liked Hossein, he is such a warm, inviting, personable guy, and his business approach is old school, which is something we appreciate. We could tell from the initial visit that he is extremely knowledgeable and very service oriented.

Barry Muskovitch and Tzabia Siegel, Toronto, Canada
I have been collecting Persian Rugs for a long time, to me they are art on the floor. When I went to see Hossein about one of my antique carpets, I knew he was a perfect fit for me.

Debbie Lechter, Toronto, Canada
We now have three Persian Rugs from Lashar, each one handpicked for us by Hossein and all of them glorius. Their luxury and warmth never ceases to amaze me, and I fall in love with them all over again when I walk into a room.

Tracy Coveart, Toronto, Canada
About Lashar Rugs in Toronto
Our History & Heritage
Discover beautiful hand-dyed and hand-knotted/hand-woven rugs at
affordable prices. Our carpets are hand-selected from Iran, India,
Afghanistan and Turkey. Rich in history and premium quality visit us in
store or shop online any time.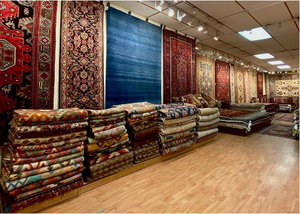 Visit Our Rug Store showroom in Toronto
Choose the Rugs You'd Like Explore Before Your Visit 

While our showroom is filled with an extensive selection of home rugs some of the rugs online may be stored temporarily in our storage location.
In order to make sure we have the rugs you'd like to see upon your visit to our showroom in Toronto, please fill out the form on the Showroom Request page.
We'll promptly confirm via email or phone. 
We look forward to seeing you soon!