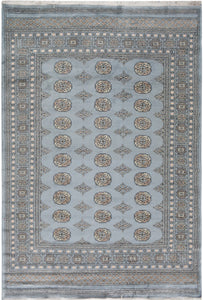 Based on Turkmen prototypes called Tekkes, variations of the handmade Bukhara rug are produced in many countries. Among the most popular handmade rugs in the world, Bukharas are prized for their softness, luxurious feel, dense pile and pleasing colours. Featuring repeating patterns of octagonal 'guls', usually on burgundy red, gray blue or green backgrounds. Pakistani Bokhara – with their velvety, almost blanket-like feel – use the Ghiorde, a Turkish knot, and feature traditional geometric patterns on solid-colours ranging from jewel and gold tones to classic reds. Bokhara rugs are part of Pakistani heritage in Lahore, Hyderabad, Kashmir and other areas of the region.
Rug Origin: Pakistan
Knotting Technique: Hand Knotted
Key Notes:
About:

Size: 5'6" x 8'3"
Click here to get more information about shipping rates, schedules, methods and restrictions.
If you are not completely satisfied with an online purchase or gift, you may return your U.S.or Canadian purchase in store or by mail. Restrictions apply for returns made outside Canada.