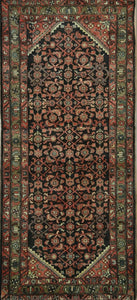 Hosseinabad or Hussainabad tribal rugs are handwoven by the semi-nomadic peoples of northern Iran in Hosseinabad village near Hamadan. These long runners feature simple geometric patterns – with or without a central medallion. Small animals or floral elements are sometimes incorporated, and the famous Herati design is occasionally included. Vibrantly coloured with natural vegetable dyes, shades of ivory, red and navy blue are most common. The foundation (warp and weft) of these rugs are usually cotton and occasionally goat hair. Good quality rugs, Hosseinabads enjoy a surprisingly long life.
Rug Origin: Iran
Knotting Technique: Hand Knotted
Key Notes:
About:

Size: 3'5" x 7'6"
Click here to get more information about shipping rates, schedules, methods and restrictions.
If you are not completely satisfied with an online purchase or gift, you may return your U.S.or Canadian purchase in store or by mail. Restrictions apply for returns made outside Canada.