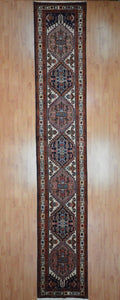 From a small village in Northwestern Iran's Azerbaijan comes the Sarab, a high quality, hard-wearing, elegant tribal rug. With a long medallion as its focal point (repeated at the corners), the Sarab features elegant motifs and geometric designs in brown, tan, rust, muted red, camel and taupe. With an average of 120 knots per square inch, this dense rug is usually woven in the symmetrical Turkish double knot style, although the asymmetrical Persian knot is used in some cities and – unique to the Sarab – both knots can be found within the same carpet. The foundation is cotton or goat hair, and the lustrous wool is hand-spun from local sheep and coloured with vegetable dyes resulting in a beautiful, durable rug in runner sizes that is perfect for high traffic hallways.
Rug Origin: Iran
Knotting Technique: Hand Knotted
Key Notes:
About:

Size: 2'4" x 13'7"
Click here to get more information about shipping rates, schedules, methods and restrictions.
If you are not completely satisfied with an online purchase or gift, you may return your U.S.or Canadian purchase in store or by mail. Restrictions apply for returns made outside Canada.