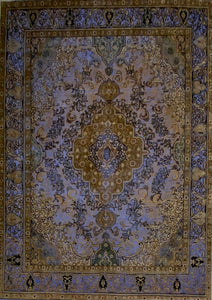 After years of refinement and innovation, each rug is carefully hand dyed using a variety of techniques. The concentrations of dyes, the artisan's individual methods and precise timing of the wash produce subtle nuances and variations in each rug. The combination of the vintage rug and unique washing technique means that no two rugs in the collection are the same. Each Second Life rug is one-of-a-kind.
Rug Origin: Iran
Knotting Technique: Hand Knotted
Key Notes:
About:

Size: 9'7" x 12'5"
Click here to get more information about shipping rates, schedules, methods and restrictions.
If you are not completely satisfied with an online purchase or gift, you may return your U.S.or Canadian purchase in store or by mail. Restrictions apply for returns made outside Canada.