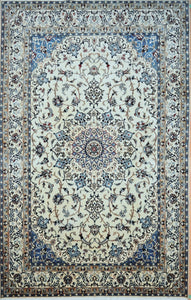 A small number of extremely rare, high quality rugs from Mashad, Iran, are given the name Mood. These smooth wool rugs have a relatively thick, luxurious pile with an instantly recognizable overall Boteh (paisley) or Herati pattern in strong reds and blues on an ivory background. Woven with the Persian or asymmetrical knot and with wool made of velvet and silk, Mood rugs are renowned the world over for their incredible softness, unique sheen and striking appearance. Although the pattern generally covers most of the the carpet's surface, some have a central medallion that resembles a star or hexagon. Otherwise used only in Bakhtiari rugs, motifs of Persian gardens in small, rectangular borders are used in many Persian carpets from Moud.
Rug Origin: Iran
Knotting Technique: Hand Knotted
Key Notes:
About:

Size: 6'7" x 10'3"
Click here to get more information about shipping rates, schedules, methods and restrictions.
If you are not completely satisfied with an online purchase or gift, you may return your U.S.or Canadian purchase in store or by mail. Restrictions apply for returns made outside Canada.