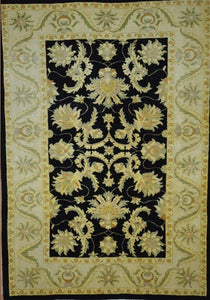 Named after Mahallat in Southwestern Iran, Mahal carpets – the result of an expanding cottage industry – were mainly made on the family level, hence their loose or moderate weave, thick pile and nomadic or tribal look. Today, the popular Mahal is made in a number of countries, including Pakistan and Afghanistan, and is another fine addition to the Oriental rug family. A dynamic and descriptive carpet with a unique approach and aesthetic, Mahal carpets are almost an art form. Large Persian or Turkish knots and naturally dyed, hand-spun sheeps' wool contribute to the softness of the Mahal, which features giant floral motifs delicately arranged on a decorative background of ivory, cream or beige. Among the rarest and most sought after antique carpets on the international market are the exclusive 'Ivory Mahals'. Their glowing ivory groundwork is considered to be the finest in the world.
Rug Origin: Iran
Knotting Technique: Hand Knotted
Key Notes:
About:

Size: 5'5 x 7'7
Click here to get more information about shipping rates, schedules, methods and restrictions.
If you are not completely satisfied with an online purchase or gift, you may return your U.S.or Canadian purchase in store or by mail. Restrictions apply for returns made outside Canada.