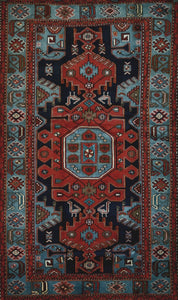 Nomadic Persian tribes from Zanjan province in northern Iran produce incredibly beautiful and hard-wearing hand-made Persian tribal rugs. The Zanjan is lively and bright, made with vegetable dyed wool and a cotton or goat hair foundation. The asymmetrical Persian knot is more common than the symmetrical Turkish double knot, as it is finer and more precise. Living far from the convenience of modern technology, these weavers construct their own horizontal ground looms, which can be easily taken apart and moved from place to place.
Rug Origin: Iran
Knotting Technique: Hand Knotted
Key Notes:
About:

Size: 4'4" x 7'3"
Click here to get more information about shipping rates, schedules, methods and restrictions.
If you are not completely satisfied with an online purchase or gift, you may return your U.S.or Canadian purchase in store or by mail. Restrictions apply for returns made outside Canada.