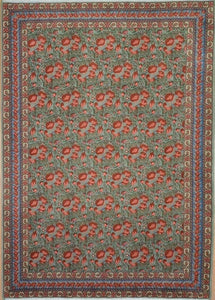 Rugs from Veramin are recognized worldwide for their outstanding quality and distinctive style. Weavers from this small town near Tehran in north central Iran will often work for years on a single rug. Aside from their quality, it is their distinguishable style that sets Veramin rugs apart from all others. The famous all-over pattern is the 'Mina Khani', a symmetrical repeating motif of four, rounded daisy-like flowers assembled in diamond formation and connected by a smaller flower in principal colours of forest green, red, burgundy and navy blue. There is no central medallion. Only the asymmetrical Persian knot is used, but materials can be all silk, all wool or a specific blend of the two. The Veramin's foundation (warp and weft) is cotton, with the exception of the finest carpets, which use silk. As hard-wearing as they are distinctive, tribal rugs from this region are some of the best in Iran.
Rug Origin: Iran
Knotting Technique: Hand Knotted
Key Notes:
About:

Size: 4'9x 6'8
Click here to get more information about shipping rates, schedules, methods and restrictions.
If you are not completely satisfied with an online purchase or gift, you may return your U.S.or Canadian purchase in store or by mail. Restrictions apply for returns made outside Canada.