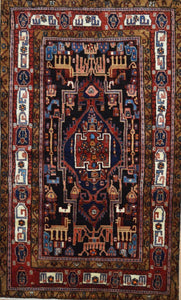 One of Iran's leading rug manufacturers is the ancient city of Nahavand, which produces high quality Persian rugs of excellent repute. Many of the designs come from the famous city Malayer to the west. The carpets feature nomadic and geometrical motifs in a rectilinear design, with a central, leaf-like medallion. Beige and pale rust-reds unfold beautifully on dark blue backgrounds, framed by stylized floral patterns, with vases as a popular motif. The wool used is very shiny, which gives the carpet its strong personality.
Rug Origin: Iran
Knotting Technique: Hand Knotted
Key Notes:
About:

Size: 4'6" x 7'4"
Click here to get more information about shipping rates, schedules, methods and restrictions.
If you are not completely satisfied with an online purchase or gift, you may return your U.S.or Canadian purchase in store or by mail. Restrictions apply for returns made outside Canada.