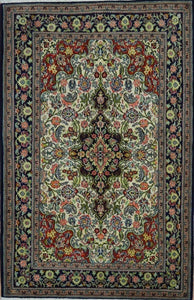 In the 1930s, rug merchants from Kashan moved their looms along the trade route to Qum, where weaving quickly flourished. With styles collected from different parts of Persia and Caucasus, Persian Qum rugs vary widely, from detailed medallion and corner designs to adventurous hunting rugs to pictorial rugs that portray scenes of daily life. Although the designs are copied, the Qum's construction is distinctive and technically excellent. Using ultra-fine silk fibres, Qum master weavers create extraordinarily fine lines in their work and show pride of craftsmanship by including their signature in a border. From facial wrinkles in humans to rippling muscles in animals, designs are woven in uncompromising detail and vibrant colours, usually on fields of white or ivory.
Rug Origin: Iran
Knotting Technique: Hand Knotted
Key Notes:
About:

Size: 3'9 x 5'9
Click here to get more information about shipping rates, schedules, methods and restrictions.
If you are not completely satisfied with an online purchase or gift, you may return your U.S.or Canadian purchase in store or by mail. Restrictions apply for returns made outside Canada.