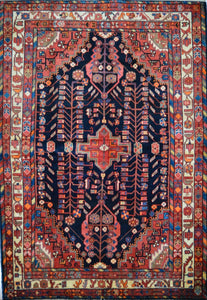 Malayer, in the province of Hamadan, is the birthplace of the Malayer rug, a distinctive group of Persian weavings. Recognizable by their diverse colour and style, one of the things that sets antique Malayer rugs apart is an exquisitely detailed border that almost rivals the equally complex patterns within the field. More abstract or geometric than other Persian rugs, hand-knotted Malayer rugs can be found in a wide variety of traditional carpet patterns, from dense all-over designs to intricate central medallions surrounded by a variety of motifs. It is the endless variety and the richness of these motifs and designs that makes Malayer rugs so interesting. Beautifully coloured and lavishly used, the boteh (representing a sprouting seed) was a favourite repeating motif. In smaller rugs and runners, the boteh often covered the entire field to mesmerizing effect.
Rug Origin: Iran
Knotting Technique: Hand Knotted
Key Notes:
About:

Size: 4'2" x 6'
Click here to get more information about shipping rates, schedules, methods and restrictions.
If you are not completely satisfied with an online purchase or gift, you may return your U.S.or Canadian purchase in store or by mail. Restrictions apply for returns made outside Canada.