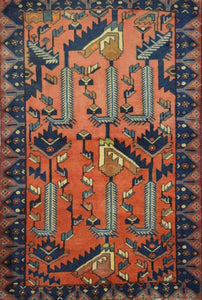 Associated with the village of Mir in the Arak province of Western Persia, the durable Persian Mir rug – known as Seraband (Saraband) in the 19th and 20th centuries – is part of the Ardabil group. With their relatively standardized designs and wide range of sizes, both Seraband and Mir rugs have enjoyed widespread commercial success. Because most feature the same signature design – a geometric border surrounding a foreground of Boteh (paisley) – Mir rugs are easily discernible from other Persian rugs. While most weavers vary this trademark style slightly according to their own artistry – sometimes including a central medallion and corner pieces (as in the rug below) - the core design remains much the same.
Rug Origin: Iran
Knotting Technique: Hand Knotted
Key Notes:
About:

Size: 3' x 5'4"
Click here to get more information about shipping rates, schedules, methods and restrictions.
If you are not completely satisfied with an online purchase or gift, you may return your U.S.or Canadian purchase in store or by mail. Restrictions apply for returns made outside Canada.