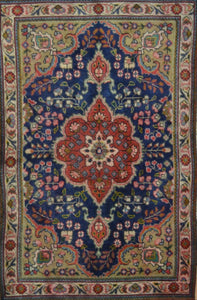 More than 1,000 years ago, during the Safavid Dynasty, the first rug producing workshop was established in Tabriz, one of the world's oldest and highly regarded carpet manufacturing centres. Master weavers in Tabriz are among the most skilled in Persia and, as a nod to their outstanding craftsmanship, they often incorporate their signature somewhere in the border of their carpets. Hand-knotted Tabriz rugs are renowned not only for their exceptional quality and longevity but also for their limitless designs – the most diverse of any rug. Often woven in the Shah Abbasi or the Islimi style (or a combination of the two), patterns range from medallion to figural to Herati/Mahi to three-dimensional. Almost anything goes: a central medallion with quarter medallions in the corners; simple geometric patterns; animals; floral garden motifs with palmettos, flowering branches, shrubs and leaves; and hunting scenes. The colours of the Tabriz vary as widely as the patterns, including a refined palette of ivory, copper tones, terracotta and burgundy, with shades of baby and navy blue and gentle touches of tan, gold, salmon and green. The Tabriz's unique double weft is generally cotton or wool, although some weavers use a silk or silk and wool weft with a Kurd wool/silk blend for the short pile. Silk is used for the foundation and the pile in the most lavish, high-end antique Tabriz rugs, with gold threads woven into the base. Sub-styles of the Tabriz include the distinguished Tabriz Fish, in which tiny geometric fish designs make up the border.
Rug Origin: Iran
Knotting Technique: Hand Knotted
Key Notes:
About:

Size: 3'2" x 5'
Click here to get more information about shipping rates, schedules, methods and restrictions.
If you are not completely satisfied with an online purchase or gift, you may return your U.S.or Canadian purchase in store or by mail. Restrictions apply for returns made outside Canada.