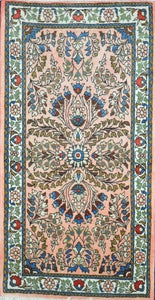 Located near Arak in west-central Iran, Sarouk is a beautiful village located with a rich history in carpet weaving. In Iran, Sarouk denotes romance, and this mood is reflected in the design of Sarouk (Saruq) rugs: a stunning fusion of angular floral patterns (with or without a central medallion) and primitive geometrics. Sarouk weavers use the symmetrical Persian knot, although the Turkish knot can be found in some antique carpets. Closely woven with fine knots and superior wool, these large-sized, long-lasting, thick pile plush rugs are lovely underfoot, with some antique examples feeling almost velvety. The most recognizable characteristic of the Sarouk Persian rug is a distinct blue weft. Colours are typically ivory, champagne, burnt orange, red, brown, green or bright blue, with motifs outlined in light yellow, light red or turquoise for background contrast. Renowned for their beauty and excellence, antique Sarouk rugs from are in high demand by private collectors and museums. Following WWI, a new design – the American Sarouk – became popular, designed with a central medallion and radiating floral sprays on an open field, similar to modern Kerman rugs. Some of these newer carpets feature a vibrant salmon pink field (dughi) achieved by mixing red dye with yogurt.
Rug Origin: Iran
Knotting Technique: Hand Knotted
Key Notes:
About:

Size: 2'2 x 4'3
Click here to get more information about shipping rates, schedules, methods and restrictions.
If you are not completely satisfied with an online purchase or gift, you may return your U.S.or Canadian purchase in store or by mail. Restrictions apply for returns made outside Canada.