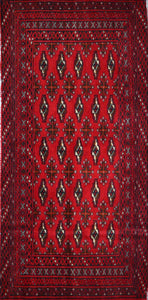 The finest of all tribal rugs are produced by the Turkmen: tribal weavers from Uzbekistan, Turkemistan and Afghanistan, who create and knot their own designs in the Bashir, Tekke and Yomut carpet styles. With 20-120 knots per square inch – higher in the finest antique rugs – the carpets feature simple patterns in true nomadic fashion, with dark red fields and repeating black or blue and ivory 'gul' motifs. The pile is cut thin on these hard-wearing rugs, which come in small and mid-sizes only. Authentic, hand-knotted Turkmen rugs are not to be confused with rugs manufactured in India and Pakistan that follow the Turkmen design.
Rug Origin: Iran
Knotting Technique: Hand Knotted
Key Notes:
About:

Size: 1'9" x 3'7"
Click here to get more information about shipping rates, schedules, methods and restrictions.
If you are not completely satisfied with an online purchase or gift, you may return your U.S.or Canadian purchase in store or by mail. Restrictions apply for returns made outside Canada.