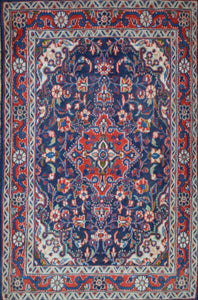 It is the semi-nomadic Kudish people of Markad – living in tribes away from the city and practicing the traditions of their ancestors – that weave the tribal Lilian rug. With their practical value as a floor covering that could be sold in times of difficulty, these rugs were not initially made to be sold, but rather as a dowry item. With a cotton warp and a cotton or high quality coarse wool weft, these one-of-a-kind antique Lilian rugs are heavy, thick and hardwearing, with a smooth, plushy feel underfoot. Featuring dense floral designs, their gorgeous rose-pink or rose-red fields are accented with azure and blue motifs and borders. The central floral-bouquet medallion is surrounded by floral sprays and highlighted by threads in ivory, yellow, gold and blue, but is the pink in the weft that defines these rugs and creates their unique appearance.
Rug Origin: Iran
Knotting Technique: Hand Knotted
Key Notes:
About:

Size: 2'2" x 3'3"
Click here to get more information about shipping rates, schedules, methods and restrictions.
If you are not completely satisfied with an online purchase or gift, you may return your U.S.or Canadian purchase in store or by mail. Restrictions apply for returns made outside Canada.