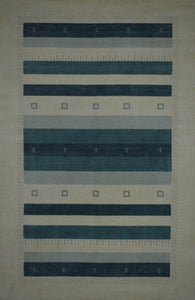 Knotted by nomads from the Qashqai and Luri tribes of southwest Iran, Loribuff (Loribaft) carpets are renowned for their naive and primitive patterns. These carpets are exciting and unique, as the nomads used their surroundings as inspiration for their designs. Loribuff are similar to Gabbeh carpets, but more tightly knotted with a shorter pile. Due to the use of high quality, naturally dyed wool, these hand-spun carpets are known for their durability and long life. Today, India and Pakistan are using Persian design elements to produce the same high quality rugs, using cotton warps instead of wool and using a loom that accelerates the knotting process. Produced in Bhadohi, India, the Loribuff is a beautiful, eye-catching carpet and high quality, undyed natural wool makes it soft and comfortable underfoot.
Rug Origin: India
Knotting Technique: Hand Knotted
Key Notes:
About:

Size: 5'2" x 8'
Click here to get more information about shipping rates, schedules, methods and restrictions.
If you are not completely satisfied with an online purchase or gift, you may return your U.S.or Canadian purchase in store or by mail. Restrictions apply for returns made outside Canada.