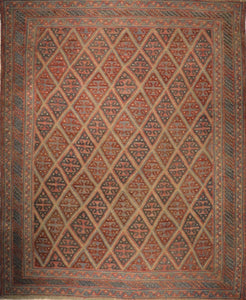 Vibrant handmade Mashwani tribal rugs have been woven for centuries by the semi-nomadic and settled Mashwan tribes in the mountains of central Afghanistan. Using a combination of flat weave (kilim) and traditional Senneh hand-knotting, these wool carpets are perfect for heavy traffic areas in the home and are in high demand due to their superb quality, beauty and durability. Bright and colourful, Mashwani rugs feature a dense and expanding pattern of hooked diamonds or zigzags in pink, orange or red; traditional one-way tribal symbols; and an embossed village design.
Rug Origin: Afghanistan
Knotting Technique: Hand Woven
Key Notes:
About:

Size: 5'1 x 6'4
Click here to get more information about shipping rates, schedules, methods and restrictions.
If you are not completely satisfied with an online purchase or gift, you may return your U.S.or Canadian purchase in store or by mail. Restrictions apply for returns made outside Canada.