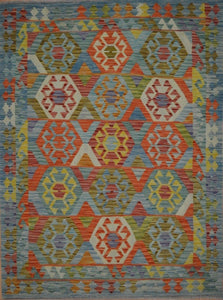 The kilim rug is steeped in tradition. Considered to resemble the first carpets in history that date back several hundred years before Christ, the roots of the kilim trace back to the nomadic peoples of the Middle East, where these rugs were used as blankets, seat mats, saddle blankets, wall decoration and carpets. Hand-woven, the 'flatweave' kilim is almost identical top and bottom, making both sides of the carpet usable. Warp and weft weaving results in distinctive geometric and linear patterns and small spaces when the fibers are pulled apart. ('Kilim' comes from the Persian word 'gel?m' (????), which means 'to spread roughly'.) Named after the village where it is crafted, the kilim Malaki can be used as a prayer rug or as a decorative accent.
Rug Origin: Afghanistan
Knotting Technique: Hand Woven
Key Notes:
About:

Size: 4'10 x 6'7
Click here to get more information about shipping rates, schedules, methods and restrictions.
If you are not completely satisfied with an online purchase or gift, you may return your U.S.or Canadian purchase in store or by mail. Restrictions apply for returns made outside Canada.