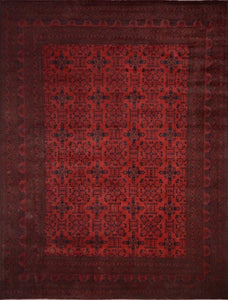 Sturdy and long lasting, Khal Mohammadi rugs are made of 100% wool and natural dyes and are legendary for their excellent workmanship and striking finish. These beautifully coloured, short-pile rugs are skillfully handcrafted by the Turkomans in and around Kunduz and in some parts of Pakistan. Khal Mohammadi rugs are named after their innovative creator, a legendary Ersari Turkmen rug producer and master dyer from northern Afghanistan. Today, all Khal Mohammadi rugs share the same basic weave, tint, materials and motif, and they are considered to be among the best examples of Afghan weaving. Warm and welcoming, the detail work in Khal Mohammadi carpets varies, but the pattern is almost always one of repeating columns of Turkmen 'gul' or 'fil pai' (elephant prints) in undertones of deep red, dark blue and black. Various shades of dark red comprise the background colour, with floral curvilinear patterns in ochre, beige and dark blue. Khal Mohammadi developed the red toned uses in these rugs, hence their signature look and name.
Rug Origin: Afghanistan
Knotting Technique: Hand Knotted
Key Notes:
About:

Size: 10' x 12'8"
Click here to get more information about shipping rates, schedules, methods and restrictions.
If you are not completely satisfied with an online purchase or gift, you may return your U.S.or Canadian purchase in store or by mail. Restrictions apply for returns made outside Canada.