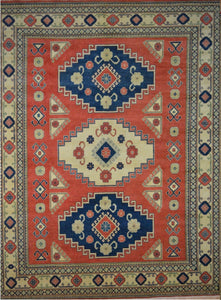 Traditionally, the Kazak rug was a symbol of wealth. Often woven with gold and silver threads, Kazak rugs adorned the walls and floors of palaces and were placed at the foot of kings. These extremely luxurious rugs are stone washed and have an unusually short, trimmed pile. Although the heavily patterned borders feature the latch-hook and reciprocal saw-tooth designs typical of rugs made in the southwestern United States, the Kazak is distinguishable both in technique and colour variation. Hand-knotting results in straight-lined patterns that include humans, animals, birds and trees in tribal motifs as well as geometrical diamonds, crosses, rosettes, medallions and hooked polygons.
Rug Origin: Afghanistan
Knotting Technique: Hand Knotted
Key Notes:
About:

Size: 8`x 10`2
Click here to get more information about shipping rates, schedules, methods and restrictions.
If you are not completely satisfied with an online purchase or gift, you may return your U.S.or Canadian purchase in store or by mail. Restrictions apply for returns made outside Canada.