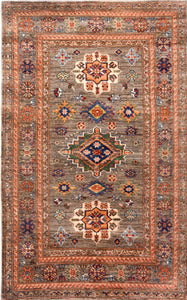 The relatively rare Sumak kilim, which gets its name from the ancient town of Shemakja, is not a actually a kilim. It is flat-woven, but the Sumak is created using a tapestry weaving technique in which the weft ? decorative rather than structural ? is woven through a number of warp strands before being looped back. The result is a thick, strong, decorative textile that is smooth on the front and ragged on the back, without the characteristic slits of a kilim. An irregular collection of wool strands, untrimmed embroidery thread and loose ends, the Sumak is geometrically patterned wit tribal motifs (usually small birds) and works equally well with traditional, modern and contemporary decor.
Rug Origin: Afghanistan
Knotting Technique: Hand Knotted
Key Notes:
About:

Size: 3'4" x 5'1"
Click here to get more information about shipping rates, schedules, methods and restrictions.
If you are not completely satisfied with an online purchase or gift, you may return your U.S.or Canadian purchase in store or by mail. Restrictions apply for returns made outside Canada.