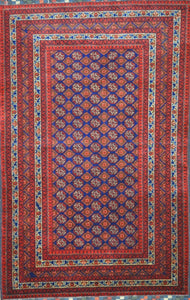 These exquisite rugs are knotted in Mazar-e-Sharif in Afghanistan, and its surrounding villages. Possibly the finest of all Afghan tribal rugs, these pieces are always knotted in rich reds and blues, with fine vegetable dyed wool that gives the appearance of silk . These designs feature a fine repeated gul design, not unlike turkmon rugs. Afghan carpets are well known for their beautiful red nuance and durability.
Rug Origin: Afghanistan
Knotting Technique: Hand Knotted
Key Notes:
About:

Size: 3'2" x 5'2"
Click here to get more information about shipping rates, schedules, methods and restrictions.
If you are not completely satisfied with an online purchase or gift, you may return your U.S.or Canadian purchase in store or by mail. Restrictions apply for returns made outside Canada.