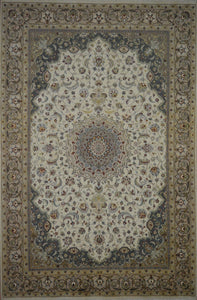 The finest quality Persian rug designs made by Pakistani master weavers, who have passed down the skill from generation to generation since the Mogul rule of the Indian subcontinent in the 16th century. For this reason, they are also often referred to as Mogul rugs. The materials used in these rugs are top quality - most of them use 100% New Zealand worsted wool for the pile, and many have silk fields or highlights of silk. In addition, the rugs use the Senneh (or Persian) double-knot weave with very high knot counts, which enables the high intricacy and detail found in the patterns.
Pakistani Persian rugs have curvilinear and floral designs. The themes usually originate from the Tree of Life, Mahal, Isfahan, Tabriz, Kirman, old Kashan and Sultanabad rugs. These rugs are woven with Senneh, a highly valued Persian knot.
16-16 means that there are 16x16 knots per square inch of the rug.
Rug Origin: Pakistan
Knotting Technique: Hand Knotted
Key Notes:
About:

Size: 6' x 9'2"
Click here to get more information about shipping rates, schedules, methods and restrictions.
If you are not completely satisfied with an online purchase or gift, you may return your U.S.or Canadian purchase in store or by mail. Restrictions apply for returns made outside Canada.