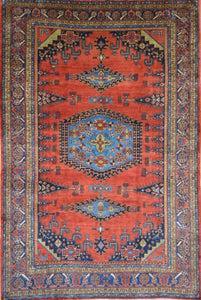 From Viss ? a small town near the city of Hamadan ? comes the Viss or Wiss rug. The distinctive characteristic of these rugs is a unique, seven-sided centre medallion that has smaller diamond shapes at either end. The medallion stands out on a solid open field, most often red, with a large and intricate (usually) navy border. Additional design features can include small animal figures, the Herati motif and garden elements in ivory, khaki and light blue. Naturally dyed and woven on compact looms, mid-sized Viss rugs are very durable, with their cotton foundation (silk in the oldest, rarest examples) and thick wool pile.
Rug Origin: Iran
Knotting Technique: Hand Knotted
Key Notes:
About:

Size: 7'5" x 10'10"
Click here to get more information about shipping rates, schedules, methods and restrictions.
If you are not completely satisfied with an online purchase or gift, you may return your U.S.or Canadian purchase in store or by mail. Restrictions apply for returns made outside Canada.