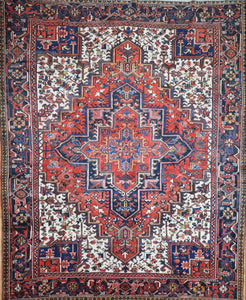 The bold design of the Heriz rug originated with the Mongols, who invaded Iran in the 13th century. Without the use of any modern technology, these highly skilled, talented nomads wove stunning, high quality rugs that are famous for their earth tones and geometric patterns. Using the same design as Tabriz rugs, but the curvilinear pattern is instead features perpendicular, horizontal and diagonal lines. While, Tabriz rugs are classic and sophisticated, Heriz are simple and stylized. Woven in the symmetrical Turkish double-knotting style, knots are tightly packed and dense on a cotton warp, making them thick, heavy, durable and extremely soft. The lustrous wool of the Heriz is hand-spun from local sheep and naturally dyed with roots and vegetables. Very similar in design, they Heriz rugs easy to recognize, their character coming from large, straight medallions. Beautiful and dynamic, and robust enough to withstand heavy foot traffic, these large rugs from Norther Iran are becoming increasing popular.
Rug Origin: Iran
Knotting Technique: Hand Knotted
Key Notes:
About:

Size: 8'4" x 10'
Click here to get more information about shipping rates, schedules, methods and restrictions.
If you are not completely satisfied with an online purchase or gift, you may return your U.S.or Canadian purchase in store or by mail. Restrictions apply for returns made outside Canada.