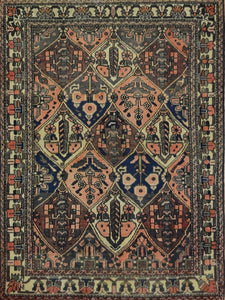 Bakhtiari carpets are based on a cotton foundation and leverage wool as the main material. The wool can range from dull to extreme glossy and the resultant pile is clipped medium to high. The most popular design is the 'Kheshti' design which consists of a garden field with compartments or squares filled with roses, flowers and tendrils.
Rug Origin: Iran
Knotting Technique: Hand Knotted
Key Notes:
About:

Size: 3'7" x 5'
Click here to get more information about shipping rates, schedules, methods and restrictions.
If you are not completely satisfied with an online purchase or gift, you may return your U.S.or Canadian purchase in store or by mail. Restrictions apply for returns made outside Canada.